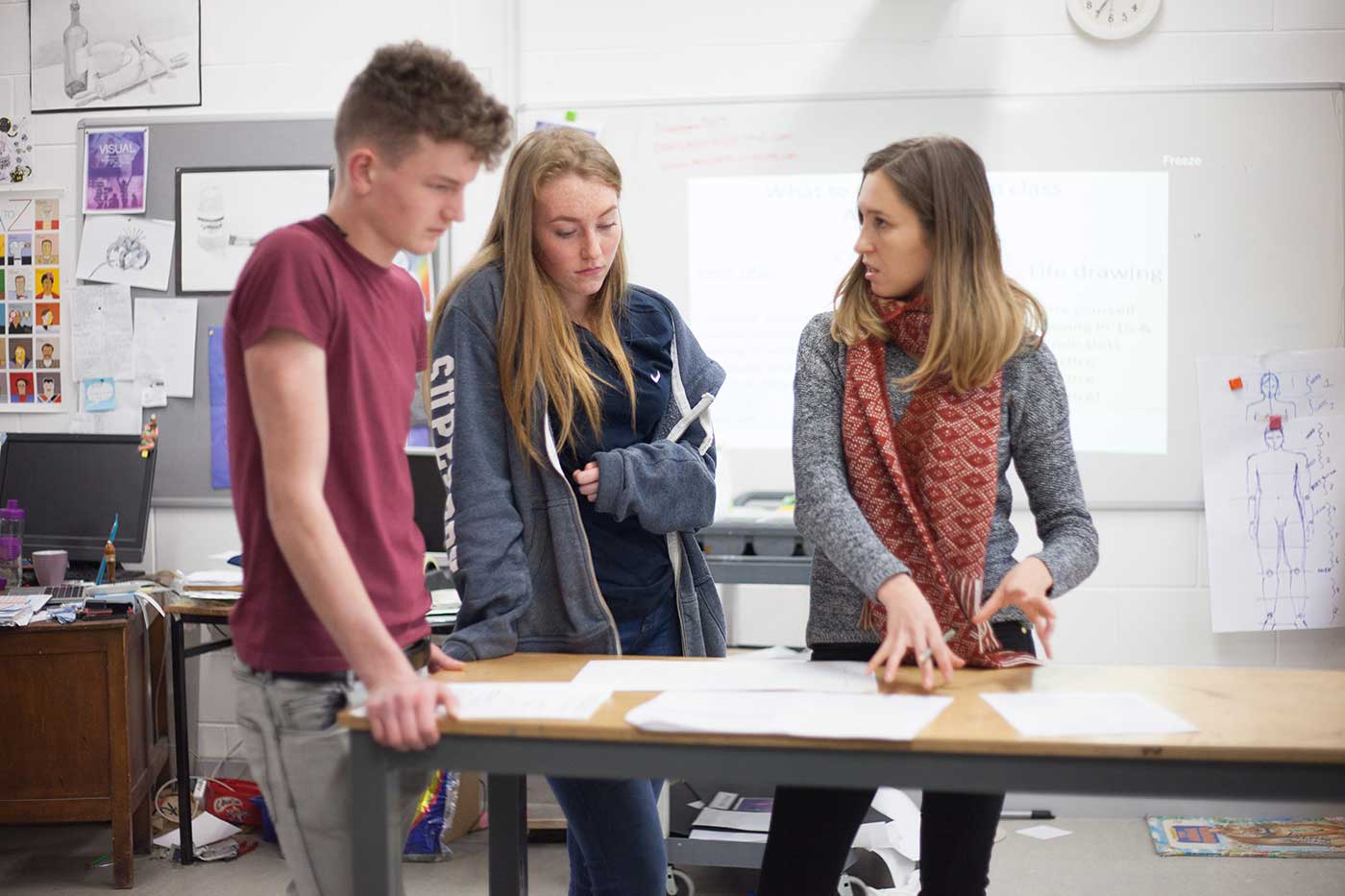 In Newpark we believe in the fundamental importance of the Student Voice and Student Leadership. Giving students a voice and responsibilities allows them to take ownership for their own learning, the learning of others and lifelong learning skills. It gives them the confidence to ask for support and learn from their teachers and their peers.
Student voice and leadership is actively promoted inside and outside of the classroom in Newpark. In teaching and learning, teachers are consistently enabling this in the classroom and students are encouraged to voice and share their own ideas. This is particularly prevalent in the Arts (Music, Art and Drama) and in CSPE, SPHE, English and Politics and Society. Student centred learning is at the heart of everything we do in Newpark and student ownership and creativity are embedded in the classroom and extracurricular activities.
Prefects
We have long established prefect system (6th years) where the prefects help with the running of the school, providing services and duties at break and lunchtime. Over the last two years, they expanded their role looking at areas of concern or areas that they which to develop, support or improve such as homophobia, litter etc.
Student Council
The Student Council in Newpark plays a vital representative role for the entire student body of our school. One representative is elected annually within each form group in a fair and democratic manner. It is their responsibility to then be the voice of their form on any multitude of school matters that relate to the entire student body.
The Council is fundamental in helping shape and inform school policies as well as playing an important role in all aspects of school life.
The Council meets monthly to voice student opinions and discuss ways to benefit and further improve the life of our students. It is led by an elected student Chairperson, Deputy Chair, Secretary and Communication Officer. Our Student Council members are an enthusiastic, energetic and insightful group and membership is always open to anyone who is willing to put their name forward for election.
Members are very active in making things happen in new and interesting ways. We are affiliated with the ISSU, this involves attending national, local meetings and undertaking training with other schools. We have also had representatives on the Dun Laoghaire Comhairle Na nÓg.
Cultural Council
This a newly formed council that represents the Student Leaders of the different clubs and societies in the school. This council is instrumental at bringing all different cultural aspects of Newpark to life. They organise individual club events as well as whole school initiatives such as the Creative Challenge amongst other events.
Sports Council
A student led Sports Council represents students involved across all sports being played in the School.
Student Voice Sub-Committee of the Board of Management
This sub-committee is made up of Board of Management members, representatives from prefects, Students Council, Cultural Council, Sports Council and interested teachers.  It focusses on themes and areas of greatest concern to the students and meets once per term.
Foróige Leadership for Life Programme
This exciting programme enables young people aged 15-18 to develop the skills and qualities necessary to be inspiring leaders. Young people are empowered to make a positive change in their community through practical actions and projects. Newpark offers this programme to the Senior Cycle students as part of TY and the LCA and/or as an ECA.